Special Services for the Disabled
The Deaf and Disabled Telecommunications Program (DDTP) is a California State mandated program established by California Public Utilities Commission and has two components: the California Relay Service (CRS), and California Telephone Access Program (CTAP).
CRS helps establish a communication link for a hearing or speech impaired person to communicate with all other telephone users.
Features of the Relay Service include:
24-hour service, seven days a week,
Toll-free number to reach the Relay Service,
No extra charge for using the Relay Service,
If long distance charges apply, they will be billed at the carrier or local telephone company rates.
To make calls, the hearing or speech impaired caller will use a Telecommunications Device for the Deaf (TDD/TTY), which resembles a portable typewriter. The service will relay the caller's typed messages through specially trained personnel who will handle the calls. The system also works in reverse, allowing a person without a TDD/TTY to call a person who uses a TDD/TTY.
To access the Relay Service dial 7-1-1, or for additional information​
If you have a TDD/TTY, call CRS at: 1-800-735-2929
If you do NOT have a TDD/TTY, call CRS at: 1-800-735-2922
Effective June 2, 2010, Hamilton Relay and AT&T Relay are the new CSR providers. Beginning August 1, 2010, you may update your 7-1-1 Choice Form. Please check the CRS website for important details about how long distance charges will apply for your non-local calls.
For more information visit the following websites:
http://www.ddtp.org (CRS)
http://www.hamiltonrelay.com (Hamilton Relay)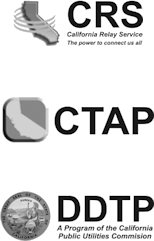 CTAP Products And Services​
CTAP provides products and services to all customers that have difficulty using the telephone due to a disability. Certain Sierra Telephone services may also qualify for CTAP such as Speed Dial 8, Speed Dial 30, Three-way calling, Operator Assisted Dialing, and Directory Assistance Exemption. These products and services are provided to certified, disabled users at no additional charge over the normal monthly rate for telephone service. For product and service information, call the CTAP program at 1-800-806-1191 (voice) or TDD/TTY at 1-800-806-4474, Monday through Friday from 7:00 a.m. to 6:00 p.m. and Saturday from 9:00 a.m. to 4:00 p.m.For more information visit the following website:
http://ddtp.cpuc.ca.gov (CTAP)